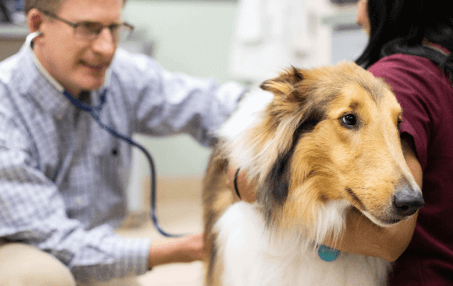 Wellness Care
Wellness Exams & Services
Prioritize preventative care for the life of your pet.
At Pacific Pet Hospital, our veterinarians are committed to keeping your pet healthy and happy for a lifetime. That starts with routine wellness exams– the cornerstone of your pet's health. We recommend that adult pets see us for a wellness exam annually and seniors twice per year.
Annual Exams
At an adult pet wellness exam, our veterinarian will assess your pet's physical health from nose to tail and give you strategies to keep them healthy! Your pet's annual exam may include vaccinations, blood work, and other proactive health care.
Microchipping
Microchipping a pet is a simple, relatively painless, and affordable. Because microchips can't fall off, they serve as permanent identification for a pet's entire life and give you the highest chance of reuniting.
Puppy & Kitten Care
We know how important it is to find a vet who understands your concerns and shares your values. With our puppy and kitten care services, you can feel confident knowing that your new pet will be in good hands. We offer vaccinations, spay/neuter surgeries, flea treatments, microchipping, and dental cleanings.
Senior Wellness
At Pacific Pet Hospital, we celebrate seniors!
Like humans, getting older requires a watchful eye on their health, and our goal is to prevent illnesses before they become severe or untreatable. We want to maintain your pet's good health and give you, their guardian, the power to do the same. For more information, give us a call at 619-585-7387.
Nutrition
A nutrition-rich diet is your pet's first line of defense and a cornerstone of preventive care. Your Pacific Pet Hospital veterinarian and staff can take the guesswork out of feeding your pets by advising you about the best diet for your animal.
Parasite Prevention & Control
Pests can cause problems for both animal and human family members. At Pacific Pet Hospital, we believe prevention is always the best treatment! We carry several options for flea, tick, and heartworm control, many of which also prevent some intestinal worms. Our veterinarians can help you choose which one is right for your pet.
Behavioral Medicine
Our team is experienced and can provide help through training suggestions, environmental changes at home, and potentially prescribe medications to help calm your pet. Some typical behavior issues that we can help you with include separation anxiety, aggression, and inappropriate elimination/litter box issues.
Vaccinations
Vaccinating your pet is a relatively inexpensive but essential way to protect their health. In addition to preventing many life-threatening illnesses, vaccinations can prevent diseases prevalent in wildlife and those that can pass to humans.
Pain Management
Although they can't tell us when they're hurting, pets suffer from pain just like we do. Surgery, injuries, chronic and acute illnesses, and degenerative diseases can all cause pain. At Pacific Pet Hospital, we provide relief with personalized pain management plans developed for short or long-term care.
We offer 50% off exams when booked with the PetDesk app. This offer is available to all clients that download our PetDesk app and request an appointment online.
This is a limited time offer/ not valid with other offers. Not applicable for exotic pet exams or Health Certificate Exams.